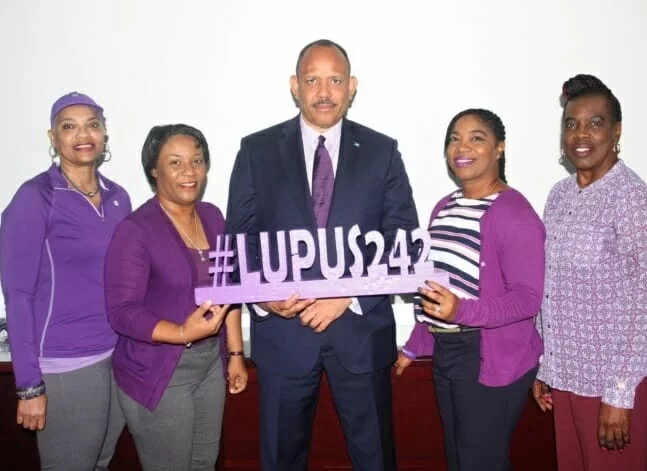 Pictured l to r: Shirl Gaskins, Lupus 242 member, Shandesia McFall, Secretary, Lupus 242, Dr. The Hon Duane Sands, Minister of Health, Shonalee Johnson, Vice President and PR Officer, Lupus 242 and Sarahlee Williams, Lupus 242 member.
Last week, members of Lupus 242 kicked off their lupus awareness month activities paying a courtesy call on Minister of Health, the Hon. Dr. Duane Sands. During the meeting, the group outlined the challenges facing persons in The Bahamas living with lupus.
They also shared plans for this month's activities including:
P.O.P (Put On Purple) for Lupus awareness campaign
Hope Floats Ceremony and Ribbon Formation at Fort Charlotte on Whit-Monday May 21st
Health Talk with Rheumatologist Dr. K. Neil Parker on Saturday May 26th at the University of The Bahamas.
Lupus 242 is a non-profit organization formed in 2012 for the purpose of providing information, education and support to persons in The Bahamas living with lupus. In addition to raising awareness, the group also seeks to advocate on behalf of its membership.  For more information on upcoming events and to find out how the public can support, follow them on Facebook and Instagram @lupus242, email lupus242@outlook.com or call 242-525-9967.